MicroStaffer features payroll check writing that can generate payroll checks directly from your scheduling data without any additional data entry and even comes with optional tax withholding tables that create W2 payroll.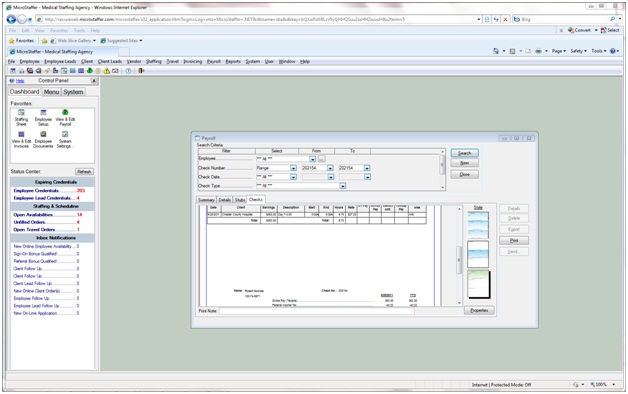 Just some of the powerful features include:
Choice of 1099 or W2 tax payroll with optional MicroStaffer Tax Engine.
Batch or individual payroll processing.
Daily pay and advance payroll including W2 advance payroll option.
W2 Tax tables and ability to create custom payroll deductions.
Calculation of Holiday pay.
Direct Deposit ACH file creation.
Daily and Weekly OT including tiered overtime rates (California).
Timecard and W2 Tax payroll export to external payroll systems (ADP, Paychex etc.)
Custom time card export programming options.
Add additional line items (e.g.. Travel or Meal Allowances etc.)
Integrated payroll and payroll tax reports.
IRS form941 form.
W2 processing.